How to get Started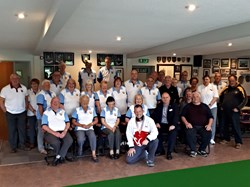 Lawn Bowls is an accessible and enjoyable sport for people of all ages and abilities. While perceived as an older person's pastime it is now also enjoyed around the world by juniors and teenagers. Recent changes to both the clothing worn and the amazing colourful bowls, as shown above, have added to its attraction.
There are many sides to bowls to attract different types of player.
The sheer fun of rolling a bowl down a green and seeing it turn greatly towards the target.
The tactics of when to defend and play gently and when to attack with a fast strike
Playing as a team so that you can learn and progress at your own pace
The pleasure of good company enjoying a sport in the fresh air
Mixing with players from all walks of life enjoying a common interest.
Lawn Bowls is an inexpensive sport to start in and at Whyte Melville we would love to invite you to have a go and we will happily supply the bowls and equipment during your session.
See our contact page to get in touch or pop down and see us on a Tuesday afternoon from 2pm